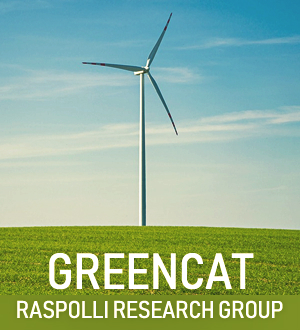 Biomass exploitation Thecatalytic conversion of renewable resources into chemicalintermediates and biofuels represents a sustainable andenvironmental friendly solution to their increasing demand. Thisstrategy allows security of supply and economical advantage, inparticular when cheap or, indeed, waste or residue raw materials,having a negative value, are employed as starting materials.This last aspect is very important because the employment ofwaste renewables for chemical transformations does not competewith food and feed production in the well known "food vs. fuel(or chemicals) conflict". We have deeply investigated thecatalytic conversion of sugars and lignocellulosic biomass (herbaceouscrops, waste biomass such as tobacco chops, lemon peels, cornstover, paper mill sludge…) to give furaldehyde, 5-hydroxymethylfuraldehyde (HMF) and levulinic acid. Then we have studied theupgrading these already valuable chemical intermediates in othercompounds of surplus value such as gamma-valerolactone (GVL),2-methyl-tetrahydrofuran (MeTHF) and 2-butanol (2-BuOH). MeTHFand GVL are versatile solvents, excellent replacements fortetrahydrofuran and additives for the preparation of alternativefuel transportation mixtures approved by DOE. 2-butanol ismainly used for the synthesis of methylethylketone, but now ithas found other applications as solvent and fuel additive due toits high octane number. Sustainable approaches, such as the useof water medium and of heterogeneous catalysts, wereadopted. The complete exploitation of lignocellulosic biomassinvolved the contemporary exploitation of lignin fraction togive polymers, antioxidants and composites.

Catalysis for Sustainability Innovativesustainable catalytic processes have been studied and optimized.In this respect non toxic, cheap and /or renewable reagents wereadopted, water was preferred as reaction medium andheterogeneous cheap catalysts were selected. Simple and also "one-pot" reaction strategies were preferred. The recyclabilityof the heterogeneous catalytsts and the absence of leaching wereverified.

Nanomaterials and their applications Microwave (MW)-assistedsynthesis allows to attain greener processes characterized byshorter reaction times, reduced energy consumptions and betteryields. Different single mode and multi-mode MW-reactors aredisposable, also for reactions carried out under inertatmosphere and under high pressure.

MW-assisted chemistry Novel syntheticapproaches for the preparation of nanocatalysts andnanostructured materials have been deeply studied. Solvothermaland MW-assisted nanocatalysts syntheses (mainly based on Pd, Ru,Pt, Cu, Rh) have been carried out , working in the presence ofcheap solvents and preferring one pot approaches. Recently novelmagnetic nanocatalysts have been synthesized and fullycharacterized. All these nocatalysts have been applied inreactions of industrial interest, such as hydrogenations,selective oxidations, C-C couplings, condensations.